STORY FOR LIFE




QUESTION: WHAT IS STORY FOR LIFE?

ANSWER: Story For Life is a pilot program underway in both North Carolina and New York City, designed to stimulate and reintegrate seniors as valued members of society while also transforming young adult perceptions of the aged. This program will be a two-step process: (A) the generation of memoir material by disenfranchised senior citizens paired with young playwrights in weekly one-on-one meetings, and (B) the subsequent live public performance of this material by professional actors of all ages. In this program essentially converting memories into monologues, young aspiring writers sit with seniors and ask specific questions (For example: "What was your first kiss like?" "What was the saddest day of your life?" "If you could be anybody, who would you be?") Playwrights listen, question more deeply, and then translate these individual memories into the format and structure of a monologue. These finished monologues are then shared with professional actors to be performed in a public forum that includes and engages the senior citizens who created them. Story For Life gives seniors the chance to see their words, their memories, their experiences brought to life onstage by professional actors. Perhaps more importantly, 'Story for Life' builds an active, generative bridge between generations seemingly at odds: millennial youths who live in a technocentric world and aging folks who remember World War II. We all have something to learn from one another.

QUESTION: WHY DO WE NEED STORY FOR LIFE?

ANSWER: In a world currently enriched by such wonderful programs as The Moth and StoryCorps, the question has been raised: "Why do we need Story for Life when so many stories are already being told?" While these storytelling initiatives do a great deal to engage the public imagination about the power of personal experience to be dramatic (The Moth) and to archive in a lasting way the human memory beyond the life of the human (StoryCorps), there remains a need to build active, conscious bridges between life and art, between the young and the old. By the year 2030, senior citizens will comprise 20% of the United States population. Now more than ever, in a society in which senior citizens are increasingly disenfranchised and made invisible, it is important to recognize, to record, and to cherish the memories, the reflections, and the experiences of the aged, but beyond all of this, to reintegrate seniors into society in an activated way. It is also invaluable for younger generations to shape new attitudes to the prospect of aging, and to reframe their relations with the elderly. Story For Life offers a truly unique community proposition, one that is both personally and artistically fruitful and rewarding.
QUESTION: WHO WILL LEAD STORY FOR LIFE?

ANSWER: In New York City, Elisabeth Gray will lead the Story For Life initiative, pairing high schoolers and college students with elderly members of the community so that stories can be shared. In Asheville, NC, Dylan Babb will lead the Story For Life initiative, calling upon the extensive network of CarePartners and Mission St. Josephs to partner students from Western North Carolina schools with the elderly who have stories that need to be told, and who need to be told that their stories matter.

QUESTION: WHAT WORK HAS STORY FOR LIFE DONE SO FAR?


ANSWER: So far, Story For Life has been incorporated into the educations of several hundred students and elderly. To get your school or your senior community involved, please contact Dylan@NewUmbrella.org

This program is not possible without your support. If you would like to support this project, please click here:
Powered by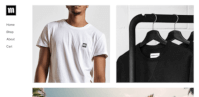 Create your own unique website with customizable templates.